Roughly speaking, the repeatability of a belt linear driven rail might be defined as its ability to achieve repetition of the same task. On the other hand, accuracy is the difference between the requested task and the obtained task . For example, the task actually achieved by the linear rail. So, repeatability is doing the same task over and over again, while accuracy is hitting your target each time.
Which brand toothed belt axis is high accuracy?
The positioning repeatability of CCM belt driven linear guide is ±0.05mm, CCM ball screw actuator is ±0.02mm, they are widely used in SMT, Medical equipment, Precision instruments.

Here is a testing video of repeatability of CCM belt driven linear motion guide on Youtube for your review.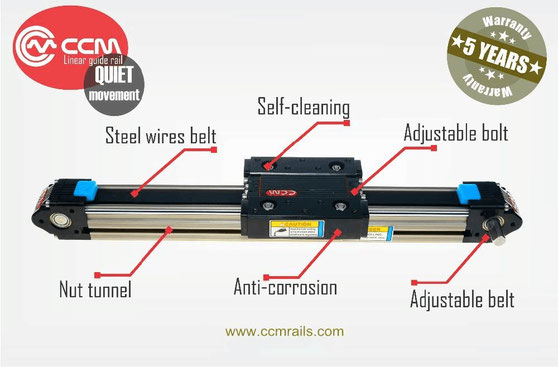 CCM is established in order to meet the needs of automation equipment manufacturers, providing innovative, high quality and reasonable price of straight line module linear slide. Our industry terms including linear module product: linear rail ,linear guide ,linear motion, linear motion guide ,linear actuators ,belt driven linear rail ,linear module ,ball screw driven linear rails ,linear slide ,linear slide rail , XY stage linear rail ,XYZ stage linear rail ,single robot ,multi axis linear guide , etc.
Linear module market applications include factory automation, medical, packaging, machine tools, glue dispenser , printing, car assembly, small gantry system , and food processing. CCM linear module manufacturers provide various linear slide units, from simple linear guide to custom design of multi-axis builds linear module system.
Any comments, don't hesitate to contact us by sales@ccm-rails.com